Laptop Repairs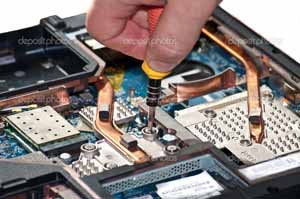 There are more and more laptops being sold each and every day and we are seeing more and more coming through our workshop.  Every make and model, shape and size – Dell, Toshiba, Sony, Compaq, HP, Acer, ASUS, you name it we repair it.
Some of our regular laptop repair culprits include:
Cracked LCD / Cracked LED Screen Replacements – usually caused by a drop or closing the lid with something inside
Faulty Hard Drives / Data Recovery – Maybe your laptop reports an "Unmountable boot volume", or a BootMGR error
Virus / Malware Removals – Lots of annoying pop ups when browsing the internet? Can't log into the laptop?  AFP or FBI warnings?
Hardware Upgrades – Add some more RAM or a bigger Hard Drive
Operating System Installation – the ultimate cleanout, a complete fresh install of windows like it came out of the box
Software Faults – Email issues?  Errors popping up while logging in?  Blue Screen Faults?
Power Jack Replacements – Laptop not getting any power when plugged in?
Laptop Batteries – Not holding charge at all or not
Keyboard Faults - Replace keyboards with keys missing or malfunctioning
Chassis / Bezel Repair & Replacement
Optical Drive – DVD Drives / Bluray Drives (Not reading or Ejecting)
We are also quite handy when it comes to repairing tablet computers as well, so give us a call with any queries and we'll be happy to help.